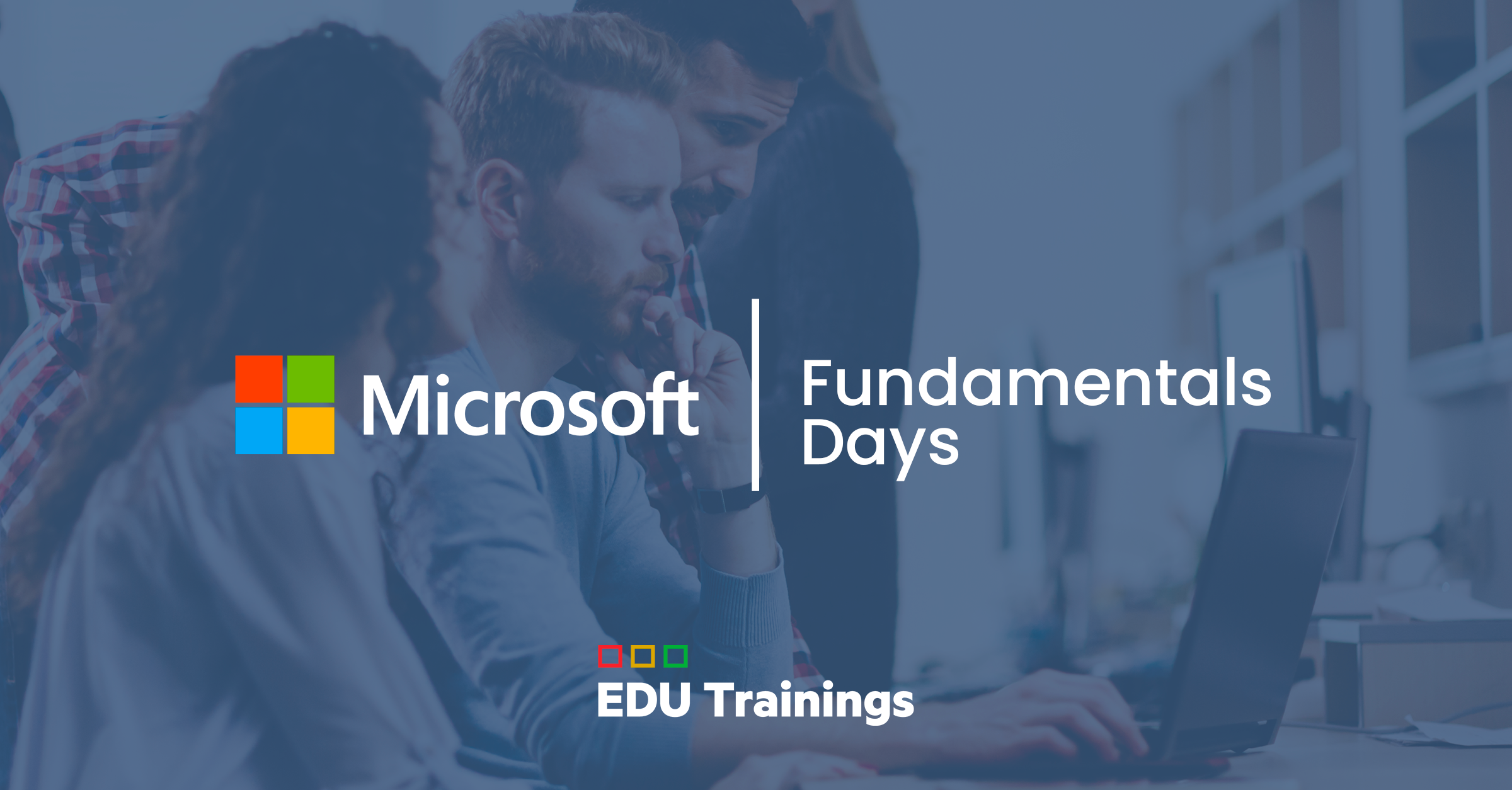 Did you miss the previous Microsoft Fundamentals Days? Do you want to prepare for the international certification exam from Microsoft? Due to the huge interest, we have extended the entire promotion of free training as part of Microsoft Fundamentals Days! You can look forward to new dates for AZ-900 and MS-900 courses, but we have also added other courses, namely PL-900, MB-901 and the brand new SC-900. Sign up for free courses today - the number of participants is limited. The courses include free materials.
After the course, you can get an internationally recognized certification exam, which we offer for the price of 1 300 CZK (excluding VAT) or €50 (excluding VAT). Passing the certification exam is a ticket for you to obtain a discounted price for other follow-up courses.
Overview of free courses
AZ-900: Microsoft Azure Fundamentals
This course will provide foundational level knowledge of cloud services and how those services are provided with Microsoft Azure. The course can be taken as an optional first step in learning about cloud services and Microsoft Azure, before taking further Microsoft Azure or Microsoft cloud services courses.
After completing this course, you will be able to:
Understand general cloud computing concepts
Understand core services available with Microsoft Azure
Understand security, privacy, compliance and trust with Microsoft Azure
Understand pricing and support models available with Microsoft

MS-900: Microsoft 365 Fundamentals
This course provides foundational knowledge on the considerations and benefits of adopting cloud services and the Software as a Service (SaaS) cloud model, with a specific focus on Microsoft 365 cloud service offerings.
After completing this course, you will be able to:
Differentiate between the various cloud service models
Identify the key differences between Microsoft 365 and Office 365
Plan for migration to Microsoft 365 services
Identify key differences between Microsoft on-premises services vs. Microsoft 365 cloud services
Define enterprise mobility in Microsoft 365
Identify how Microsoft 365 services provide collaboration
Understand identities, including cloud, on-premises, and hybrid identity
Understand cloud device management and protection, including the use of Intune
Understand data protection, including the use of Azure Information Protection
Describe compliance in general and the compliance features in Microsoft 365
Describe Microsoft 365 subscriptions, licenses, billing, and support
PL-900: Microsoft Power Platform Fundamentals
Learn the business value and product capabilities of Power Platform. Create simple Power Apps, connect data with Common Data Service, build a Power BI Dashboard, automate a process with Power Automate, and build a chatbot with Power Virtual Agents
After completing this course, you will be able to:
Identify when to use each Power Platform component application to create business solutions
Learn the value of using Power Platform to create business solutions
Learn the components and features of Power Platform
Descibe the difference between Common Data Service and Common Data Model
Explain use cases and limitations of business rules and process flows
Explain what environments, entities, fields, and relationships are in common data service
Learn how other organizations digitize their processes using Power Apps
See Power Apps in action and learn options for making your first app
Learn about what Power Apps is and its business value
See how Power Automate works and looks from the user's perspective
Build a simple flow
See how Power BI works and looks from the user's perspective
Learn how to build a simple Power BI dashboard
Describe the business value and features of Power BI,Power Automate, Power Virtual Agents
Build a basic chatbot
Learn essential components that make up Power Virtual Agents and chatbots
MB-901: Microsoft Dynamics 365 Fundamentals
This course provides learners with a broad overview of Dynamics 365 applications. We will introduce you each of the applications, articulate their business value, and discuss and demo core functionality. We will cover Dynamics 365 security, reporting, and familiarize you with data and product integrations available.
After completing this course, you will be able to:
Distinguish between the different Dynamics 365 applications
Articulate the business value and core functionality of the Dynamics 365 apps
Describe artificial intelligence (AI) and mixed reality (MR)
Define the digital transformation loop
Describe cloud-based security
Summarize role-based security in Dynamics 365
Explain Dynamics 365 reporting options
Give examples of cross-Dynamics app integration
Describe Office 365 and Dynamics 365 integration
SC-900: Microsoft Security, Compliance, and Identity Fundamentals
This course provides foundational level knowledge on security, compliance, and identity concepts and related cloud-based Microsoft solutions.
After completing this course, you will be able to:
Describe the concepts of security, compliance, and identity
Describe the capabilities of Microsoft identity and access management solutions
Describe the capabilities of Microsoft security solutions 
Describe the capabilities of Microsoft compliance solutions 
Important information
The courses include a certificate of participation. If you are interested in the Microsoft certification exam, we will be happy to arrange it for you. You can contact us at the e-mail address This email address is being protected from spambots. You need JavaScript enabled to view it.. You can register for the course using the "Register" action button, or you can contact us at our e-mail address. If you are doing a bulk registration, please do not forget to fill in all identification data (name, surname, e-mail address, phone number) for other participants in the note of the registration form.