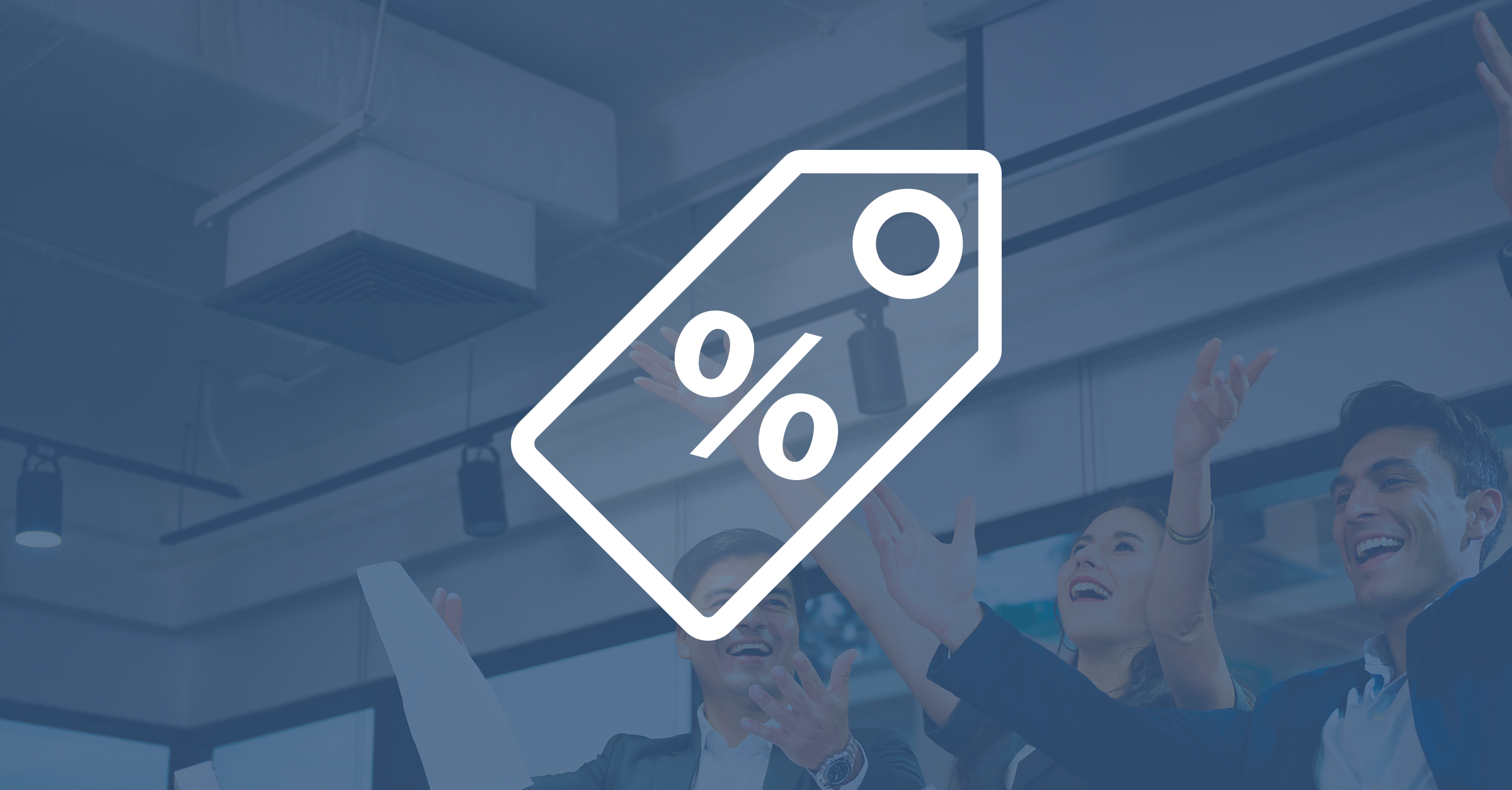 Black Friday? We are not on this trend. At EDU Trainings, we have a discount offer today, and it will last even longer than Black Friday itself! We have prepared a 20% discount for you on authorized official courses of Red Hat, Microsoft and VMware. You have time until the end of 2021 to take advantage of the discount!
Whatever course you choose, don't forget to mention the promo code "20OFF" when booking your appointment. After processing the order, the discount will be automatically deducted. Using this deal is governed by the conditions of the event.
Red Hat courses with 20% discount Microsoft courses with 20% discount VMware courses with 20% discount*
*applies to selected courses
Terms and conditions
The event is valid only for trainings in the Red Hat, Microsoft category, which are published on the website https://edutrainings.cz/en/red-hat or https://edutrainings.cz/en/microsoft and for selected VMware courses, which are listed below.
The promotion does not apply to certification exams.
The course for which the event is used must end no later than 31 December 2021.
The promo code is valid until 31 December 2021.
Eligible participants must enter the promo code in a note in the order or contact form.
In case of cancellation of the course, the right to a discount expires.
The event is available only to customers from the Czech and Slovak Republics.
Any course orders before 23 September 2021 are excluded from this offer.
This offer is non-transferable, and it is not allowed to add courses or replace them.
This limited-time offer cannot be combined with other promotions.
If the eligible participant violates any of the conditions of the offer, the offer will be invalid.
EDU Trainings reserves the right to modify or cancel this offer at any time without notice.
 The promotion applies to the following VMware courses
| | | | |
| --- | --- | --- | --- |
|   |   |   |   |
| VMware Enterprise PKS: Install, Configure, Manage [V1.5], | VMware vSAN: Management and Operations [V7], | VMware Data Center Automation with vRealize Orchestrator and vSphere PowerCLI, | VMware Horizon 7: Troubleshooting and Performance Optimization [V7], |
| VMware Tanzu Kubernetes Grid: Install, Configure, Manage [V1.0], | VMware vSAN: Troubleshooting [V7], | VMware vRealize Operations: Install, Configure, Manage [V8.2], | VMware SD-WAN by VeloCloud: Design and Deploy, |
| VMware Tanzu Mission Control: Management and Operations 2020, | VMware Site Recovery Manager: Install, Configure, Manage [V8.2], | VMware vRealize Log Insight: Deploy and Manage [V4.7], | VMware Horizon 8: Skills for Virtual Desktop Management, |
| VMware vSphere with Tanzu: Deploy and Manage [V7], | VMware Cloud Foundation: Management and Operations [V4.0], | VMware Cloud Director: Install, Configure, Manage [V10.1], | VMware Horizon 8: Infrastructure Administration, |
| VMware vSphere: What's New [V6.7 to V7], | VMware Cloud Foundation: Plan and Deploy [V4.0], | VMware vCloud Director: Tenant Operations [V10.x], | VMware Horizon 8: Deploy and Manage, |
| VMware vSphere: Install, Configure, Manage [V7], | VMware Integrated OpenStack: Install, Configure, Manage [V7], | VMware Cloud Director: Advanced Workshop [V10.2], | VMware Horizon 8: Virtual Desktop Troubleshooting, |
| VMware vSphere: Optimize and Scale [V7], | VMware vRealize Suite Lifecycle Manager: Install, Configure, Manage [V8.0], | VMware NSX: Install, Configure, Manage [V6.4], | VMware Workspace ONE: Integrating Access with UEM [V21.x], |
| VMware vSphere: Troubleshooting [V7], | VMware vRealize Automation: Install, Configure, Manage [V8.3], | VMware NSX: Troubleshooting and Operations [V6.4], | VMware Workspace ONE: Unified Endpoint Management Troubleshooting [V21.x], |
| VMware vSphere: Advanced Administration Workshop [V7], | VMware vRealize Automation: Orchestration and Extensibility [V8.1], | VMware NSX-T Data Center: Install, Configure, Manage [V3.0], | VMware Workspace ONE: Advanced Integration [V20.x], |
| VMware vSAN: Production Operations [V6.7], | VMware vRealize Automation: Advanced Features and Troubleshooting [V8.x], | VMware NSX-T Data Center: Troubleshooting and Operations [V3.0], | VMware Carbon Black EDR Administrator, |
| VMware vSAN: Deploy and Manage [V6.7], | VMware vRealize Automation: Design and Deploy [V7.6], | VMware NSX Advanced Load Balancer: Install, Configure, Manage, | VMware Carbon Black EDR Advanced Administrator, |
|   |   | VMware NSX Advanced Load Balancer: Troubleshooting and Operations, | VMware Carbon Black EDR Advanced Analyst |